Team Rubicon
Wildfire mitigation efforts on Emerald Mountain to receive a helping hand.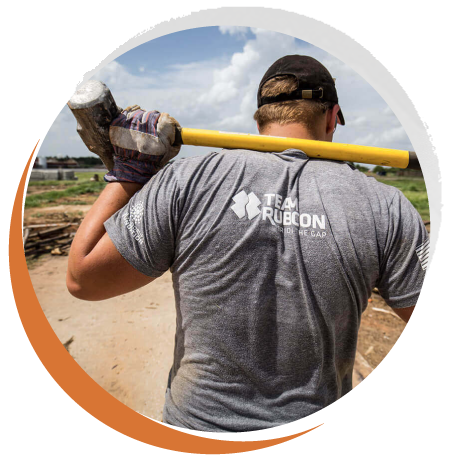 Steamboat Springs Fire Rescue (SSFR) has started a 4-year effort to mitigate critical infrastructure and improve the fire break along Blackmer Drive this summer.  With grant funding provided by Colorado State Forest Service, chipping equipment has been secured by SSFR to help with fuels reduction throughout the District.  Now, it's time to get that project moving and Team Rubicon is joining the effort.
After a few discussions between Team Rubicon coordinators, the Routt County Office of Emergency Management (OEM), the Routt County Wildfire Mitigation Council and SSFR, it was decided that support for the Emerald Mountain project would have a lasting impact and would be a great way to kick off the longer term project.  To supplement the effort, Team Rubicon wanted to provide some direct outreach to residents, so planning around the Fairview neighborhood was added to the agenda.  
Alyssa Ingles with OEM worked with Team Rubicon at her previous position in Grand County and said, "The amount of work the Team Rubicon 'grey shirts' can complete in a weekend is absolutely incredible. They are consistently some of the most dedicated and motivated volunteers I've ever worked with, and they always seem to be having fun. I'm so excited to see the work and outreach they'll complete on Emerald and in the Fairview neighborhood."
Members of Team Rubicon's planning leadership were in town for RECON on Monday June 19th to look at the identified project areas and visit Steamboat Springs Middle School, where Team Rubicon will set up operations and shelter during their deployment.  "This is perfect," said Duane Poslusny, Project Manager for Team Rubicon, referring to the spaces available for use at the school.  And on Friday 6/30, the final approval for the mission was received.
Team Rubicon is planning to send 30-40 'grey shirts' from all over the county to tackle wildfire mitigation efforts starting Friday 7/28 and working through the weekend.  Team Rubicon is a veteran-led humanitarian organization that serves global communities before, during, and after disasters and crises.  There is no cost associated with their service, as their organization is funded 100% through donations.  
Team Rubicon is only asking that we provide lodging and meals… and we could use some help.  Please consider a donation or sponsor a meal through our campaign!  We also have a few events that spotlight Team Rubicon's efforts!